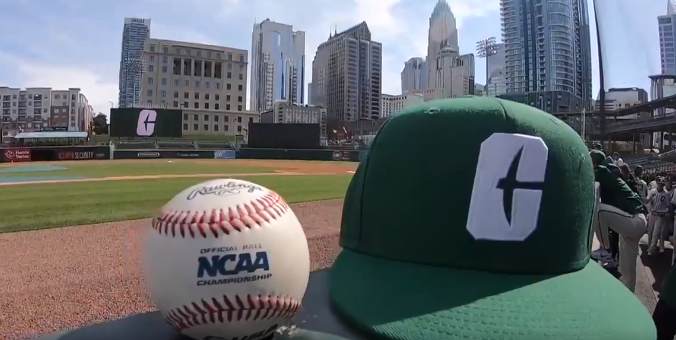 Top Stories
Sweeping the Sunshine State – For the second consecutive weekend the Niners earned a conference sweep over a team from Florida. This time is was 4 victories over FIU in Miami. As a result, the guys are sitting atop C-USA at 11-1, 22-9 overall.
Planes, Trains, & Automobiles – After sharing a flight to Miami with the softball team (who won their series at FAU), the team's return flight on Sunday was cancelled. No worries, they happened to have a couple busses handy. Of course, that's still a long ride. Even longer when one of the busses breaks down. They guys wound up grabbing a hotel for the night and making back Monday evening. This, along with UNC-CH's weather delayed series vs Duke, led to Tuesday night's game in Chapel Hill being pushed back to April 27th.
Rankings, Rankings, & More Rankings – It's a pretty simple formula: win games, get noticed. That's exactly what the Niners have been doing. This week the Niners check in at #21 in D1 Baseball's Top 25. They are also 27th in the USA Today Coaches Poll and 28th in the NCBWA poll. Just win, baby!
Golden Knight? – Speaking of recognition, when you're having the kind of year Austin Knight is having, you're going to get noticed. This week, Austin was named to the Golden Spikes watch list. The list is comprised of 45 of the top players in the country. This is the first time that a player from Charlotte has appeared on the list. There will be several more rounds of the competition before a winner is named in July.
May Madness at The Hayes? – Well, maybe. Like everything else this year, the process for selecting NCAA tournament host sites is a bit different this year. Normally, they would be announced right before the parings are unveiled on Selection Monday. However, due to protocol requirements, bids to host were due on April 12th and will be announced on May 10th. Can it happen? You won't know if you don't ask. Good on Mike Hill and the rest of the department for stepping forward.
Tracking the Enemy
Here's a look at how Charlotte's (22-9, 21 RPI) Non-Conference opponents fared this past week:
This Week in C-USA
C-USA presently sits at 6th in the RPI ratings. The overall out of conference record is 123-98.
Up Next
The Niners are back home at the Hayes this weekend hosting UTSA. UTSA is coming in at 14-12 overall and 6-5 in C-USA.
The four game series begins Friday at 6:00, continues with a double-header (7 innings) on Saturday starting at 1:00, and concludes with a Noon start on Sunday. All games of the series will be on CUSA-TV.
For a 'bird's eye view' of the match-up this weekend, let's take a look at where these teams sit in these Conference USA stats: